Malcolm King, PhD, FCAHS, is a member of the Mississaugas of the Credit First Nation (Ontario). He completed a PhD in polymer chemistry at McGill University in Montreal and research fellowships at the Weizmann Institute of Science in Rehovot, Israel, and the Meakins-Christie Laboratories at McGill University. He has held faculty positions at McGill University (MRC Scholar), the University of Alberta (AHFMR Senior Scholar), Simon Fraser University, and most recently at the University of Saskatchewan, where he also serves as the Scientific Director of SCPOR, the Saskatchewan Centre for Patient-Oriented Research.
Malcolm's areas of research interest include respiratory health issues among Indigenous peoples, health service delivery to vulnerable populations, the interaction of education and health, airborne disease transmission and chronic obstructive lung disease. He is the author of more than 200 scientific papers and has supervised many health research trainees including graduate students, postdoctoral fellows and community-based researchers. His international Indigenous health interests include improving Indigenous well-being through health workforce development and provision of culturally appropriate care, and developing Indigenous health indicators to monitor progress in programs aimed at achieving wellness and health equity.
While at UofA and SFU from 2009 to 2016, Malcolm served as Scientific Director of CIHR's Institute of Aboriginal Peoples' Health. During this time, he led CIHR in the development of a national health research agenda aimed at improving wellness and achieving health equity for First Nations Peoples, Métis and Inuit in Canada. With Alexandra King at SFU, he co-developed a course on Indigenous health in Canada that has now been integrated into the Master of Public Health program.
In addition to his active research and teaching schedule, Malcolm contributes to numerous councils and boards that support health research and policy across Canada. He was the national President of the Canadian Thoracic Society in 1999-2000, and served on the Governing Council of the Canadian Institutes of Health Research from 2000 to 2004. He subsequently chaired the CIHR Institute of Aboriginal Peoples' Health Advisory Board from 2005 to 2008. He also served on the Board of Directors of the Alberta Centre for Child, Family & Community Research from 2004 to 2016. He is currently Chair of the Steering Council of Diabetes Action Canada, a CIHR chronic disease research network.
He received the Alberta Lung Association Lorraine Award of Excellence in Research and the National Aboriginal Achievement Award for Medical Research in March 1999, and in September 2003, the University of Alberta Board of Governors' Award of Excellence. He was elected a Fellow of the Canadian Academy of Health Sciences in 2016. In 2021 he was chosen to become a member of the Royal Society of Canada.
Malcolm has three daughters (Alana, Jessalyn and Stephanie). He is married to Dr. Alexandra King.
https://medicine.usask.ca/profiles/che/malcolm-king.php#ResearchAreas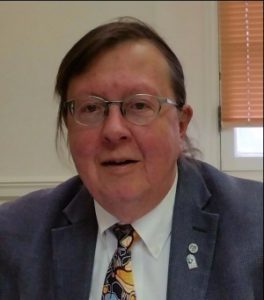 photo courtesy of Saskatchewan Centre for Patient-Oriented Research (SCPOR)